ZOOGALA is a one of a kind Saskatoon fundraising event that takes place at the unbeatable setting of the Saskatoon Zoo. ZOOGALA 2019's Title sponsor is Christopher Moore Financial Services Ltd. ZOOGALA is every food lover's dream come true, featuring exquisite cuisine created by the best Saskatoon Chef's. The evening also promises amazing entertainment, wonderful prizes and the true stars of the show, the resident animals.  Without our sponsors, this event simply could not happen. In our latest article, we wanted to express our gratitude to two of our 2019 Silver Sponsors Acura and SaskMilk.
2019 ZOOGALA SILVER Sponsors Include Acura and SaskMilk
Acura

Acura Centre of Saskatoon is incredibly proud to be Saskatoon's only Acura dealership. Located in the Stonebridge Auto Mall, you can expect to find their lot well stocked with an inventory of luxurious new and Certified Pre-owned Acura cars and SUVs. They also stock a complement of premium quality used cars and SUVs from other automakers to provide their customers with the best possible selection. It's their mission to offer everyone who walks through our doors the best customer service experience possible. Whether you're ordering a part, going for a test drive, or picking up your new Acura, you can expect to be treated with respect and honesty from Acura Centre Saskatoon.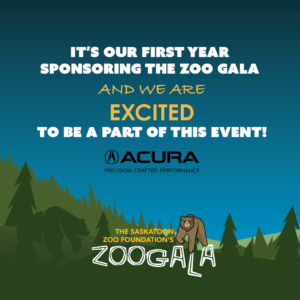 This is the first ZooGala event sponsorship for Acura Saskatoon. A customer actually came in and bought a vehicle from Acura, and vouched for the business to sponsor the event. Acura agreed to this proposal, and now they are in the midst of their first sponsorship of the ZooGala 2019 and their first ZooGala event in attendance!
The mission at Acura is to get you the best lease or finance rate possible for the new or used vehicle that's perfect for you. The Acura Financial Services team brings years of experience to the table, and is well equipped to get you behind the wheel quickly. Their highly knowledgeable staff are happy to answer any questions you might have. Acura is excited to be a part of their first ZooGala in participation to the Saskatoon Zoo Foundation as a cause.
SaskMilk

SaskMilk was established in 2010 and their general role and responsibility is to design and implement dairy policies and programs for the benefit of producers and other industry stakeholders. Their mission is, "To lead and grow the dairy industry through innovation, advocacy, and quality."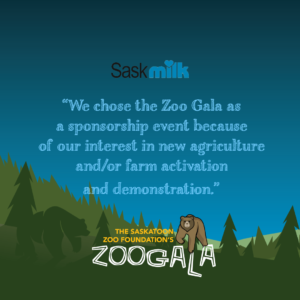 SaskMilk is going to be participating in the ZooGala event for the first time ever this June. This is the first sponsorship to the Saskatoon Zoo Foundation as a cause for their business. SaskMilk chose the zoo as a cause because of an "Interest in new agriculture and/or farm activation and demonstration."
Their values involve – integrity, being committed to ethical behaviour that is demonstrated through honesty, fairness and a sense of decency – transparency, establishing direction and conduct affairs with clarity and in a plain, self-evident and forthright manner – respect, operating in an environment which embraces empathy, civility and courtesy in dealing with others – innovative, encouraging a pioneering spirit of innovation and creativity to meet the needs of the Saskatchewan dairy industry – and lastly, collaborative, developing interdependent and harmonious partnerships for the common good of Saskatchewan dairy producers. SaskMilk is excited to bring all they have to offer to the 2019 ZooGala event in Saskatoon.
We hope you enjoyed meeting 2 of our generous 2019 ZOOGALA Silver sponsors.  
Meet more Silver sponsors here:
We also want to recognize the ZOOGALA title sponsor for the 6th Year -Christopher Moore Financial Services Ltd . Please support all of the sponsors like they have stepped up to support the Zoo. In 2019 our focus is our grizzly bears, Koda and Mistaya. The City of Saskatoon has been busy developing a new Master Plan for the entire Forestry Farm Park & Zoo site—and it's going to be beyond amazing. One of the most exciting features is a new, larger bear habitat. The Zoo Foundation is making the new habitat a major fundraising focus in the coming years. We need your support! Make secure online donations at saskatoonzoofoundation.ca