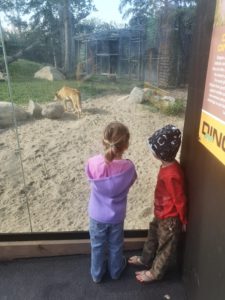 I've had a busy August. My toddler and I went to Ontario for a week, and came back pretty exhausted. We also came back with colds. We had so much fun meeting up with friends, and hanging out at the beach for the week, but we were happy to come home.
Other than Ontario, we have spent most of our summer in the city this year. I never feel bad about that though because I'm lucky enough to live in Saskatoon. I was away all summer last year, and felt like I was missing everything. In my personal opinion, Saskatoon is a great destination for summer. I can be a tourist in my own city. There is always something exciting going on, and of course, that includes our favourite place: the Zoo.
A summer filled with visits to the Forestry Farm and Zoo make the whole family happy. I go often, but still get to be a tourist while visiting the animals. I learn something new every trip. My son discovers the wonder of the zoo during every visit. It's also our favourite destination to take friends and family who are visiting.
One of the most exciting things about flying back to Saskatoon from Ontario was knowing who had come to the zoo. We were thrilled to get back home. I would meet the Dingoes! I've been so excited about their arrival, and I couldn't wait to go see the newest additions to our zoo.
The newest friends arrived on Friday, August 9th. Have you met them? They've travelled a long way, and I was looking forward to seeing them in their new home.
It took us longer to get there than planned because I was sick, but we finally made it to see them (and all the other animals) this week. Anthony loved watching them, and he called them 'puppy dogs'. They were both sleeping when we arrived, but one of them got up and moved around a bit. Plus, they're adorable whether they're asleep or awake. 
If you're having a stay-cation this summer, make sure to check out the zoo. With kids or without, there is so much to see, and it's like stepping into a whole new world with a wonderment of things to see and discover. There are still a few warm days left!
As always, donations continue to make the zoo a wonderful place. Donations help in many ways. They help build the bears a new home, and build the butterflies a house. Every little bit helps to promote education, conservation, and research. You can also sponsor the amazing Dingo exhibit. 
It's YOUR zoo!
Thanks for reading.
Erin McCrea – The Writing Momma
Saskatoon Zoo Foundation Blogger