This week, my toddler and I met up with friends at the zoo. He has a little buddy that he loves running around with. They ran in circles around us, and my friend and I chatted, knowing our kids were safe and happy. It's nice being able to keep an eye on them, but not having to worry about them running too far.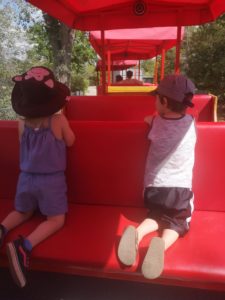 We decided to take a break from running around and playing at the park to ride on the train. Both the kids were really excited to go. It was my son's first time on the train. One of the best things about the train is seeing all the animals we didn't see on the walk, and hear about them.
I saw something on the ride that made me really happy. If my son could read, he would have been jumping for joy as well. After we got off the train, we headed over to it again. There is a sign that says Future Home of the Prairie Butterfly House.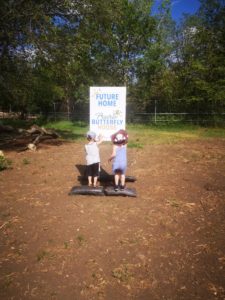 I love butterflies. So does my son. I can't think of anything better than a butterfly house to visit. I already love the zoo, and this is going to make it even better. We have never had a bad experience at the Saskatoon Zoo. Having a Butterfly House to visit will be one more thing for us to look forward to.
I have a few details for you about the soon to be Prairie Butterfly House. They are beginning construction soon, and there will be natural plants with butterflies for everybody to see and enjoy. As soon as I find out more, I promise to share the news, especially about the grand opening!
I'll be back soon to talk more about all the fun at the Saskatoon Zoo and more details about what the Saskatoon Zoo Foundation has to offer.
Interested in donating? Donations not only help build the bears a new home, but will also help build the butterflies a house. Every little bit helps to promote education, conservation, and research.
It's YOUR zoo!
Thanks for reading.
Erin McCrea – The Writing Momma
Saskatoon Zoo Foundation Blogger