ZOOGALA is a one of a kind Saskatoon fundraising event that takes place at the unbeatable setting of the Saskatoon Zoo. ZOOGALA is every food lover's dream come true, featuring exquisite cuisine created by the best Saskatoon Chef's. The evening also promises amazing entertainment, wonderful prizes and the true stars of the show, the resident animals.  Without our sponsors, this event simply could not happen. In our latest article, we wanted to express our gratitude to ZOOGALA 2019's Title sponsor for the 6th year in a row Christopher Moore Financial Services Ltd.
Christopher Moore Financial Services Ltd.
Christopher Moore's team strives to provide clients with quality service, products that meet their needs and to build relationships that help develop bright financial futures. He's been a Sun Life Financial advisor for over 11 years. A second-generation advisor, he follows in the footsteps of his father, Randy Moore. His hero and mentor for eight wonderful years is his father, and he has worked hard to honour his father's legacy by continuing dedication to client service in the community.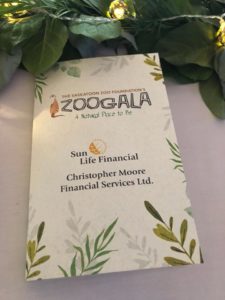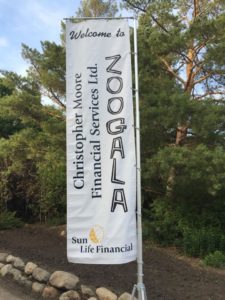 Meet Christopher Moore Financial Services Ltd– Title sponsor of the ZooGala for the 6th year in a row.
Hear what sets his services apart.
Over the years, Christopher has learned a valuable lesson: you need to surround yourself with a professional team and network. You can't be expected to know and do everything. You need the expertise of others. He carries this philosophy forward when helping clients plan for their financial future.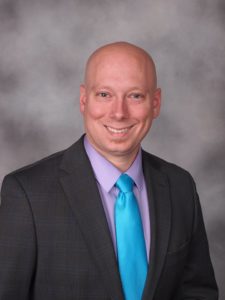 As an advisor, Christopher Moore can identify opportunities and help you to make informed choices for building and protecting your savings based on your goals and plans for the future. He can help you assess your current situation by examining your finances, set achievable financial goals, develop a realistic plan to meet those goals, put your plan into action, monitor your progress to keep you on track and update your plan to grow with your changing needs and goals. He will work with you as much or as little as you choose.
Title Sponsor of the ZooGala for the 6th year, Christopher Moore shares with us why he supports ZooGala.
Christopher Moore is proud to be an active board member of the Saskatoon Zoo Foundation. He is a strong believer in keeping his skills current. He is also a member of Advocis, an organization committed to upholding standards of best practice for advisors. And he is a member of the Million Dollar Round Table – a global association of advisors who demonstrate exceptional professional knowledge and adhere to a strict code of ethical conduct.
Title sponsor of the ZooGala for the 6th year, Christopher Moore shares his favourite things about the ZooGala Event!
Christopher Moore is excited to be a huge participant in the ZooGala once again for his 6th year as a Title Sponsor. Christopher Moore Financial Services Ltd. / Sun Life Financial is a proud sponsor of the 2019 ZOOGALA event.
"Life's brighter under the sun." We hope you enjoyed meeting  Christopher Moore Financial Services Ltd our  2019 ZOOGALA Title sponsor.  We also want to recognize all of our generous sponsors. Please support all of the sponsors like they have stepped up to support the Zoo. In 2019 our focus is our grizzly bears, Koda and Mistaya. The City of Saskatoon has been busy developing a new Master Plan for the entire Forestry Farm Park & Zoo site—and it's going to be beyond amazing. One of the most exciting features is a new, larger bear habitat.
The Zoo Foundation is making the new habitat a major fundraising focus in the coming years. We need your support! Make secure online donations at saskatoonzoofoundation.ca