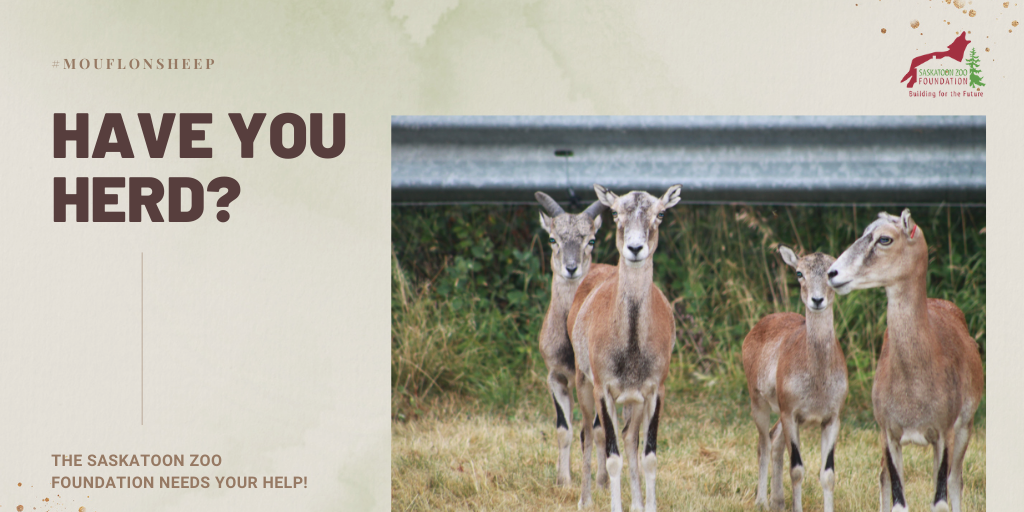 Have you HERD?? The Saskatoon Zoo has welcomed two adorable Mouflon Sheep (one boy and one girl) and are asking YOU for your help to name them through this fun auction! The highest bidder gets to name the sheep and here's how it works!
How Do I Bid?
Email admin@saskatoonzoofoundation.ca to place the dollar ($) amount of your bid.
Bidding will start at $50 and bids will increase by $5 increments. You will receive a reply notifying you if you are currently the highest bidder or the amount of the largest bid in first place. If you are not the highest bidder, you can email again with a larger denomination and so forth.
The lucky person who is the highest bidder will get the rights to choose one of the name options for the Mouflon Sheep! That bid will also be donated to the Saskatoon Zoo Foundation.
Sooo what are the name options??
We have come up with the following names, and need your help deciding:
#1: Lambert & Ernie
#2: Meryl Sheep & Wooliam Shakeshear
#3: Britney Shears & Justin Timberlamb
#4: YOUR CHOICE! The highest bidder can provide us with their own custom name option.
Now it's in YOUR hands Saskatoon!
Bidding closes end of day on Friday, October 9th so make sure you email in your bids before the deadline or you will not have the chance to name the Mouflon Sheep!
*Please note that the Saskatoon Zoo Foundation appreciates all bids and those who wish to participate, however please do not email an amount that you do not wish to donate if you are the highest bidder, as this is a donation with proceeds going to the Saskatoon Zoo Foundation.
On Wednesday, October 14th, the winning names and the highest bidder will be announced! Keep a close eye on the Saskatoon Zoo Foundation's Facebook and Instagram pages for updates throughout the campaign.
Happy bidding!!
The Saskatoon Zoo Foundation