Hello Zoo Friends,
I cannot believe this is the last day of September. We've had a beautiful month. Wonderful colours, and the weather has been fantastic. We were able to spend a lot of time outside, and of course, at the zoo. I'm hoping for nice weather in October as well so we can continue our outdoor fun, and keep on visiting the animals in the brisk weather.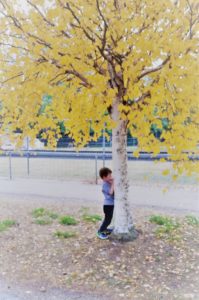 I want to talk about some of the exciting things that are happening with the Saskatoon Zoo Foundation, and remind you of upcoming events.
If you follow the Saskatoon Zoo Foundation Facebook and Instagram pages, you know about the exciting bidding opportunities to name the Mouflon Sheep! You can bid to get the naming rights! The highest bid will be donated to the Saskatoon Zoo Foundation. Make sure to check out the website and social media pages for more specific information. I love the name options: 1)  Lambert and Ernie 2) Meryl Sheep and Woolliam Shakeshear 3) Britney Shears and Justin Timberlamb 4) Your choice! The highest bidder can choose their own custom names. 
Bidding closes on Friday, October 9th, so make sure you email your bid to admin@saskatoonzoofoundation.ca to get your bid in. The winning names and highest bidder will be announced on Wednesday October 14th. 
And of course, I mentioned this last time as well, but don't forget The BHP Enchanted Forest will be going ahead this year! It's a great and fun fundraiser for the Saskatoon Zoo Foundation. I'll share the details soon! 
As‌ ‌always,‌ ‌donations‌ ‌continue‌ ‌to‌ ‌make‌ ‌the‌ ‌zoo‌ ‌a‌n even better ‌place.‌ ‌‌Every‌ ‌little‌ ‌bit‌ ‌helps‌ ‌to‌ ‌promote‌ ‌education,‌ ‌conservation,‌ ‌and‌ ‌research.‌ ‌
It's‌ ‌YOUR‌ ‌zoo!‌ ‌See you there!
Thanks‌ ‌for‌ ‌reading.‌ ‌
Erin‌ ‌McCrea‌
Saskatoon‌ ‌Zoo‌ ‌Foundation‌ ‌Blogger‌