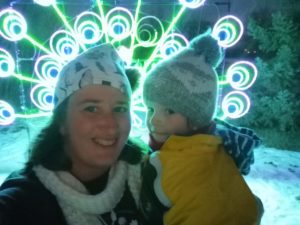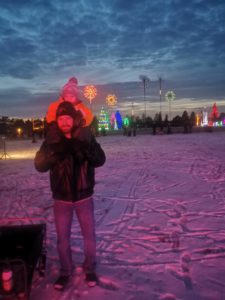 The 21st Annual BHP Enchanted Forest is officially open. ‌Last Friday, my family joined what felt like most of Saskatoon for the Light Walk Night. I'm so glad we got there early because it felt like a lot of people had the same idea as us. For those that missed it, there is one more Light Walk Night on January 5th from 5:30 to 10. It's worth it, and I'm hoping we make it to the second one in the New Year.
Until then, you can enjoy driving through and seeing the lights from the comfort of your car until January 5th with the same hours as the Walking Tour.‌ Tickets‌ ‌are‌ ‌available‌ ‌in‌ ‌advance‌ ‌at‌ ‌Saskatoon‌ ‌Shopper's‌ ‌Drug‌ ‌Marts‌ ‌and‌ ‌Saskatoon‌ ‌Co-op‌ ‌Food‌ ‌Stores‌ ‌and‌ ‌Gas‌ ‌Bars.‌ ‌You‌ ‌can‌ ‌also‌ ‌buy‌ ‌them‌ ‌at‌ ‌the‌ ‌gate.‌ ‌
This was the first time we've done the Light Walk Night, and it was the perfect night. The weather was beautiful, and everybody around us was happy. We were able to pull the wagon with our son in it, and he could get out when he wanted as well. He loved the lights. We all have our favourites. My son heads straight for the trains. There are two different ones, and he could watch them all day. He also loved the new display reflecting the theme Starry Starry nights. He pointed it out more than once. We had a blast, and it was a night we're all going to remember. 
We're going to drive through it as well. We actually go every year on New Year's Day. It's a wonderful tradition. We are planning a drive one night before Christmas as well.
As‌ ‌always,‌ ‌donations‌ ‌continue‌ ‌to‌ ‌make‌ ‌the‌ ‌zoo‌ ‌a‌ ‌wonderful‌ ‌place.‌ ‌Donations‌ ‌help‌ ‌in‌ ‌many‌ ‌ways.‌ ‌They‌ ‌help‌ ‌build‌ ‌the‌ ‌bears‌ ‌a‌ ‌new‌ ‌home,‌ ‌and‌ ‌build‌ ‌the‌ ‌butterflies‌ ‌a‌ ‌house.‌ ‌Every‌ ‌little‌ ‌bit‌ ‌helps‌ ‌to‌ ‌promote‌ ‌education,‌ ‌conservation,‌ ‌and‌ ‌research.‌ ‌You‌ ‌can‌ ‌also‌ ‌sponsor‌ ‌the‌ ‌amazing‌ ‌Dingo‌ ‌exhibit.‌ ‌ ‌
 ‌It's‌ ‌YOUR‌ ‌zoo!‌ ‌
Thanks‌ ‌for‌ ‌reading.‌ ‌
Erin‌ ‌McCrea‌ ‌-‌ ‌The‌ ‌Writing‌ ‌Momma‌ ‌
Saskatoon‌ ‌Zoo‌ ‌Foundation‌ ‌Blogger‌ ‌