Hello Everyone. I have two things to write about in this post. I went to the zoo on Tuesday for some writing inspiration, and I found it.
First of all, I'm excited to share with you that they are currently setting up for another fantastic fundraiser. The set up has started for the 21st Annual Light Tour of BHP Enchanted Forest. I saw them working on it as I drove to the parking lot. My three year old asked me what they were doing, and I reminded him of the lights he saw last year. He told me he loved them.
It's a fantastic event for the whole family. It's a tradition with our family – we make sure to get there at least once during the run. There are so many chances and days to see all the displays. It opens this year to drive through November 16th until January 6th from 5:30pm until 10pm. They also have Light Walk Nights on November 15th and January 5th. My family has never done the Light Walk Night, and I'm really excited to walk this year. I'm hoping we can both walk and drive. Tickets are available in advance at Saskatoon Shopper's Drug Marts and Saskatoon Co-op Food Stores and Gas Bars. You can also by them at the gate.
I can't say enough about The Enchanted Forest. It doesn't matter how old you are, you will be amazed by the displays. There is always something new to see. My three-year-old (he was two then) spends the whole time pointing at the lights and telling us what he sees. When he's not pointing at things, I'm pointing things out. 
This year's theme is Starry Starry nights, and they're working on a new display this year that reflects this magical theme. I can't wait to see what it is.
We were excited to see the lights being set up, but we also had a great time at the zoo, even though it was chilly out. It seemed like most of the animals were out, and the kids had a great time seeing them. They warmed up while they played at the playground.
The last thing we did before we left was stop to see the dingoes. We've seen them before, but the experience was so much fun this time. The dingoes came out and talked to the kids. They followed them along the glass, and the toddlers absolutely loved it. If you haven't met the dingoes, I recommend it. They're so fun to watch, and it's pretty great watching them play and interact with the kids.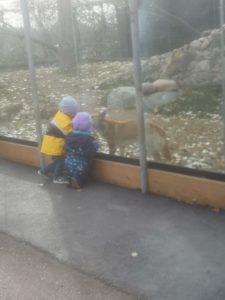 As always, donations continue to make the zoo a wonderful place. Donations help in many ways. They help build the bears a new home, and build the butterflies a house. Every little bit helps to promote education, conservation, and research. You can also sponsor the amazing Dingo exhibit.
It's YOUR zoo!
Thanks for reading.
Erin McCrea – The Writing Momma
Saskatoon Zoo Foundation Blogger