ZOOGALA is a one of a kind Saskatoon fundraising event that takes place at the unbeatable setting of the Saskatoon Zoo. ZOOGALA 2019's Title sponsor is Christopher Moore Financial Services Ltd. ZOOGALA is every food lover's dream come true, featuring exquisite cuisine created by the best Saskatoon Chef's. The evening also promises amazing entertainment, wonderful prizes and the true stars of the show, the resident animals.  Without our sponsors, this event simply could not happen. In our latest article, we wanted to express our gratitude to 2019 ZOOGALA BRONZE  Sponsors.
2019 ZOOGALA BRONZE Sponsors Include:
Dakota Dunes Casino 

The Dakota Dunes Casino is located on the historical Whitecap First Nation, 20 minutes south of Saskatoon. Their casino excels in friendly, courteous service. Their traditional First Nations hospitality is unsurpassed anywhere. Whether you are looking for thrilling table games, exciting slots, a great meal, or fabulous live entertainment, Dakota Dunes Casino was designed for an exhilarating experience. Dakota Dunes likes to work in conservation work and environmental work which makes them a good fit with the Saskatoon Zoo Foundation. "Excitement lives here."
Dakota Dunes was the title sponsor of the Enchanted Forest for 11 years. After so many years, they decided to change up their sponsorship events, which is what brought them to the Saskatoon Zoo Foundation as a cause. They are now sponsoring the 2019 ZooGala event for the first time."We are a 100% non-profit company. We give back to the communities in which we live and work, and we are proud to support the Saskatoon Zoo Foundation."
Con-Tech General Contractors

Con-Tech General Contractors have been providing structures and building solutions to Saskatchewan's growing economy since 1994. Con-Tech is a commercial builder that has built a company based on doing the right things and treating people well. Their services include design/build, construction management, general contracting, self-performance and metal buildings. Con-Tech is built on 6 core values consisting of integrity/honesty, commitment to excellence, individual well-being, family matters, team development and long-term partnerships.
This is the first year Con-Tech General Contractors are sponsoring the ZooGala event! "Many of our employees (myself included) have young kids. The Zoo is a favorite spot for my family and we think it is very important to financially help assure its ongoing renewal and success." Con-Tech promotes a team approach where the owner and the entire Con-Tech team work together to complete a quality project on time and on budget. Con-Tech enjoys being an active member of their society.
Star Egg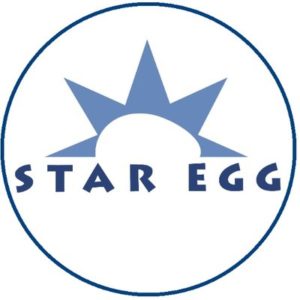 Star Egg Company Ltd. was established in 1966. It is a local, Saskatoon-based business, specializing in the grading, distribution and marketing of shell eggs. They now operate a state of the art egg grading business, capable of providing all types of eggs. Star Egg continuously provides nutritious eggs to the Saskatchewan and Canadian retail and foodservice market. Eggs are the best source of protein and provide support for a healthy lifestyle!
This is the first year Star Egg is sponsoring the event! "We aim to support a diverse array of interests across the province but primarily in the community of Saskatoon.  This event provides support for the Saskatoon Zoo which enriches the lives of Saskatoonians and visitors alike." The employees at Star Egg in Saskatoon are excited to attend the event for the first time this June.
We hope you enjoyed meeting our generous 2019 ZOOGALA Bronze sponsors. – Meet more Bronze sponsors here:
2019 ZOOGALA BRONZE Sponsors Dutch Growers, MNP, Peak Mechanical and Sobey's Liquor Store
2019 ZOOGALA BRONZE Sponsors Alsco, Carriage House Florists, Danielle Stasiuk Photography and SaskTel
We also want to recognize the ZOOGALA title sponsor for the 6th Year -Christopher Moore Financial Services Ltd . Please support all of the sponsors like they have stepped up to support the Zoo. In 2019 our focus is our grizzly bears, Koda and Mistaya. The City of Saskatoon has been busy developing a new Master Plan for the entire Forestry Farm Park & Zoo site—and it's going to be beyond amazing. One of the most exciting features is a new, larger bear habitat.
The Zoo Foundation is making the new habitat a major fundraising focus in the coming years. We need your support! Make secure online donations at saskatoonzoofoundation.ca