ZOOGALA is a one of a kind Saskatoon fundraising event that takes place at the unbeatable setting of the Saskatoon Zoo. ZOOGALA 2019's Title sponsor is Christopher Moore Financial Services Ltd. ZOOGALA is every food lover's dream come true, featuring exquisite cuisine created by the best Saskatoon Chef's. The evening also promises amazing entertainment, wonderful prizes and the true stars of the show, the resident animals.  Without our sponsors, this event simply could not happen. In our latest article, we wanted to express our gratitude to two of our 2019 Silver Sponsors Armed With Harmony and Koncept Sign Group.
2019 ZOOGALA SILVER Sponsors Include Armed With Harmony and Koncept Sign Group 
Armed With Harmony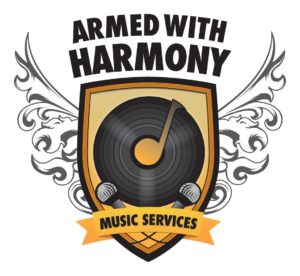 Armed With Harmony is a full production and event services company. They provide their clients with sound, lighting, truss, video, DJs, photo booths and rentals for a wide range of events including weddings, schools, corporate and nightclubs.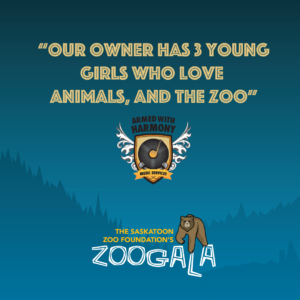 Their fun, professional and experienced staff love being part of events that take place in their community. They have supported large scale events like: The Eagles at Mosaic Stadium, Saskatchewan Rush Game Days and We Day at the SaskTel Center, Mock Wedding, Ag Bag Drag, and NYE at Prairieland Park. They have also supported countless weddings at all of the great hotels and venues in the city. They continually provide bars, clubs and pubs with DJs. They have even been involved with smaller event rentals for local community BBQ's.
Armed With Harmony sponsored the ZooGala event for the first time last year. They were a bronze sponsor last year, and they are now a silver sponsor for the 2019 ZooGala event.
Armed With Harmony became involved with the Zoo Gala event and the Saskatoon Zoo Foundation as a cause for a simple reason. "Our company owner Trystan/DJ Anchor has 3 young girls who love animals the outdoors and the Zoo! It was an easy decision."
Koncept Sign Group 

The Koncept Sign Group provides a full spectrum of superior signage for the interior and exterior of your business no matter what size or location your signage needs may be. They are a locally owned and operated business. They pride themselves on their innovation, service and their people!
With over twenty years of experience in the sign industry, Koncept Sign Group's team is well prepared to help you choose the best-suited signage to communicate your message and grab the attention of your audience. Signage can come in all kinds of shapes and sizes, but the easiest way to start the process is to determine if your signage is going to be indoor-interior, outdoor-exterior, or fits within the event category.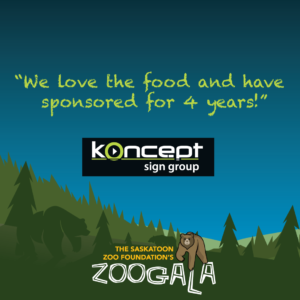 Koncept Sign has been a sponsor for the Saskatoon Zoo Foundation at the ZooGala event since 2014. The thing they enjoy the most about the event is the food. The chair of the event, Dawn Woroniuk is friends with a contact at Koncept. That is what inspired Koncept to sponsor the ZooGala, but due to such a great cause and being an active participant in the Saskatoon community, Koncept Sign Group has genuinely enjoyed being a part of the Saskatoon ZooGala event each year.
We hope you enjoyed meeting 2 of our generous 2019 ZOOGALA Silver sponsors.  
Meet more Silver sponsors here:
saskatoonzoofoundation.ca/2019-zoogala-silver-sponsors-finning-cat-premium-portable-washrooms-ltd/ 
saskatoonzoofoundation.ca/2019-zoogala-silver-sponsors-acura-saskmilk/ 
saskatoonzoofoundation.ca/2019-zoogala-silver-sponsors-targeted-strategies-the-forestry-farm-park-zoo/ 
saskatoonzoofoundation.ca/2019-zoogala-silver-sponsors-orano-trusted-marketing-services/ 
We also want to recognize the ZOOGALA title sponsor for the 6th Year -Christopher Moore Financial Services Ltd . Please support all of the sponsors like they have stepped up to support the Zoo. In 2019 our focus is our grizzly bears, Koda and Mistaya. The City of Saskatoon has been busy developing a new Master Plan for the entire Forestry Farm Park & Zoo site—and it's going to be beyond amazing. One of the most exciting features is a new, larger bear habitat.
The Zoo Foundation is making the new habitat a major fundraising focus in the coming years. We need your support! Make secure online donations at saskatoonzoofoundation.ca