ZOOGALA is a one of a kind Saskatoon fundraising event that takes place at the unbeatable setting of the Saskatoon Zoo. ZOOGALA 2019's Title sponsor is Christopher Moore Financial Services Ltd. ZOOGALA is every food lover's dream come true, featuring exquisite cuisine created by the best Saskatoon Chef's. The evening also promises amazing entertainment, wonderful prizes and the true stars of the show, the resident animals.  Without our sponsors, this event simply could not happen. In our latest article, we wanted to express our gratitude to two of our 2019 Silver Sponsors Finning Cat and Premium Portable.
2019 ZOOGALA SILVER Sponsors Include Finning Cat and Premium Portable
Finning Canada 

Finning is the world's largest Caterpillar dealer delivering unrivalled service for over 85 years. They sell, rent and provide parts and service for equipment and engines to customers in various industries including, mining, construction, petroleum, forestry and a wide range of power system applications.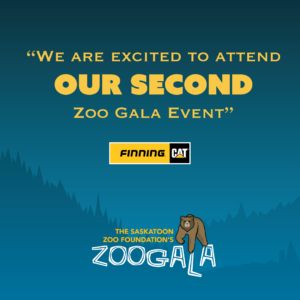 With their broad product support infrastructure and unmatched service capabilities, Finning delivers solutions that enable customers to achieve the lowest equipment owning and operating costs while maximizing uptime. For more than 80 years, Finning has been working to earn their customers' loyalty by delivering unrivalled service. Their dedication to serving their customers has helped them spread their roots from British Columbia to become the world's largest Caterpillar dealer
Finning Cat are excited to attend the event once again. They chose the ZooGala and the Saskatoon Zoo Foundation as a cause in order to be active members in the community, "Being part of our community and supporting our community.
Premium Portable Washrooms Ltd.

Premium Portable Washrooms Ltd. provides self-contained luxury portable washrooms. Each portable washroom includes air conditioning, water heaters, toilets, urinals, automatic faucets, heat, lighting and are fully lockable. They can have them set up in only 5 minutes, winterized in just 20 minutes and they are easy to relocate!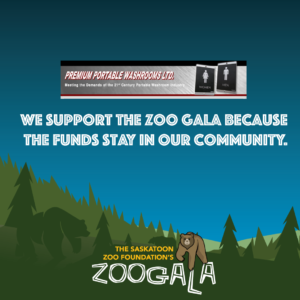 Premium Portable Washrooms has been sponsoring the ZooGala event for 5 years! On the night of the ZooGala event, Premium Portable Washrooms enjoys the entertainment the most. "We support this event as it is going to a good cause and it stays in the community. The Saskatoon Zoo is a wonderful place and for kids of all ages to enjoy."
They offer rental units daily, weekly, monthly and yearly. They also offer emergency showers and eyewash/face stations. Their emergency eye/face wash stations are designed to provide a gentle stream of fluid to both eyes simultaneously. Like the emergency shower, the eye and face wash station is simple to activate in less than one second and remains operational by itself. You can see learn more about Premium Portable Washrooms on their website! "Luxury Portable Washrooms, built for all season extremes."
We hope you enjoyed meeting 2 of our generous 2019 ZOOGALA Silver sponsors.  
Meet more Silver sponsors here. 
saskatoonzoofoundation.ca/2019-zoogala-silver-sponsors-armed-with-harmony-koncept-sign-group/ 
saskatoonzoofoundation.ca/2019-zoogala-silver-sponsors-acura-saskmilk/ 
saskatoonzoofoundation.ca/2019-zoogala-silver-sponsors-targeted-strategies-the-forestry-farm-park-zoo/ 
saskatoonzoofoundation.ca/2019-zoogala-silver-sponsors-orano-trusted-marketing-services/ 
We also want to recognize the ZOOGALA title sponsor for the 6th Year -Christopher Moore Financial Services Ltd . Please support all of the sponsors like they have stepped up to support the Zoo. In 2019 our focus is our grizzly bears, Koda and Mistaya. The City of Saskatoon has been busy developing a new Master Plan for the entire Forestry Farm Park & Zoo site—and it's going to be beyond amazing. One of the most exciting features is a new, larger bear habitat.
The Zoo Foundation is making the new habitat a major fundraising focus in the coming years. We need your support! Make secure online donations at saskatoonzoofoundation.ca