ZOOGALA is a one of a kind Saskatoon fundraising event that takes place at the unbeatable setting of the Saskatoon Zoo. ZOOGALA 2019's Title sponsor is Christopher Moore Financial Services Ltd. ZOOGALA is every food lover's dream come true, featuring exquisite cuisine created by the best Saskatoon Chef's. The evening also promises amazing entertainment, wonderful prizes and the true stars of the show, the resident animals.  Without our sponsors, this event simply could not happen. In our latest article, we wanted to express our gratitude to two of our 2019 ZOOGALA Silver Sponsors Orano and Trusted Marketing Services.
2019 ZOOGALA SILVER Sponsors Include Orano and Trusted Marketing Services
Orano
You've known them as AREVA for years; they are now Orano. A new brand with the same focus on uranium production. The same commitment to safety and environmental protection to their communities.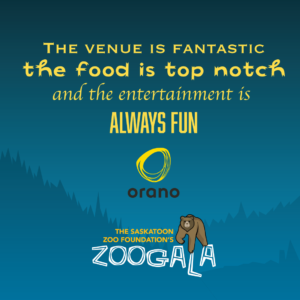 Their commitment to helping their communities thrive is what keeps them coming back to the Zoo year after year! Orano has been a proud sponsor of the ZooGala event by the Saskatoon Zoo Foundation for 11 years. What they like about the event is the opportunity to see the animals and learn about them from the zoo keepers, while enjoying live music, cocktails and delicious food. They especially enjoy the delicious dishes that the Chefs prepare specially for the event.
"We love sponsoring this event. First, because it's so different from any other fundraisers, the venue is fantastic, the food is top notch and the entertainment always fun. The Saskatoon Zoo is a wonderful venue that provides hours of fun and learning for young and old. It's a place that everyone in the community can connect with, it's "all inclusive". The Saskatoon Zoo falls within several of our community investment pillars, including in particular health and wellness promotion by offering a great park to walk, run and "monkey around", and education by teaching people about animals, their habitats and how to protect them. All of this keeps us coming back to support the Saskatoon Zoo & Forestry Farm and participate in the ZooGala."
Trusted Marketing Services tell your unique story to the people you want to hear it!
Their success is driven by our passion for storytelling. They offer web design, social media management, marketing strategy & training, graphic design, video services, public relations and more. They are local marketing experts and their foundation is built on finding the essence of their clients. Their Saskatchewan marketing team has a deep-rooted belief that authentic transparency beats slick advertising every time! Their methodical approach is focused on results and measurability…it's a new age in marketing and there is no need to wonder if your advertising is working anymore!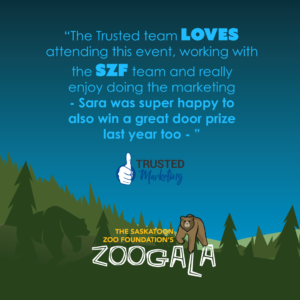 The Trusted Marketing Services team has worked closely with the Saskatoon Zoo Foundation and the ZooGala for 2 years. Trusted Marketing Services manages the social media for the event and creates a solid online marketing strategy for different aspects of the ZooGala event, and they enjoy every second of it.
"The Trusted team love attending this event, working with the SZF team and really enjoy doing the marketing. – Sara Wheelwright, Founder of Trusted
Giving back to the community has always been a focus for Trusted Marketing Services. They are thrilled to be able to give back to their community every day, as a full-service marketing firm that works with many local non-profit businesses and charitable events, such as the ZooGala Event, each year by donating time and marketing support!
"Choose a marketing agency you can trust."
We hope you enjoyed meeting 2 of our generous 2019 ZOOGALA Silver sponsors Orano and Trusted Marketing.  Meet more Silver sponsors here:
saskatoonzoofoundation.ca/2019-zoogala-silver-sponsors-armed-with-harmony-koncept-sign-group/ 
saskatoonzoofoundation.ca/2019-zoogala-silver-sponsors-finning-cat-premium-portable-washrooms-ltd/ 
saskatoonzoofoundation.ca/2019-zoogala-silver-sponsors-acura-saskmilk/ 
saskatoonzoofoundation.ca/2019-zoogala-silver-sponsors-targeted-strategies-the-forestry-farm-park-zoo/ 
We also want to recognize the ZOOGALA title sponsor for the 6th Year -Christopher Moore Financial Services Ltd . Please support all of the sponsors like they have stepped up to support the Zoo. In 2019 our focus is our grizzly bears, Koda and Mistaya. The City of Saskatoon has been busy developing a new Master Plan for the entire Forestry Farm Park & Zoo site—and it's going to be beyond amazing. One of the most exciting features is a new, larger bear habitat.
The Zoo Foundation is making the new habitat a major fundraising focus in the coming years. We need your support! Make secure online donations at saskatoonzoofoundation.ca